I became fascinated with noni after moving to the Bahamas and finding a noni tree in our front yard. I started doing research and what I found got me really excited.
I'm thrilled to be able to share this with you…
What is noni?
A fruit and superfood renowned for having amazing health benefits! Helps heal you at a cellular level…
What is a tincture?
Infusing herbs or fruits in alcohol (herbal extract). The alcohol extracts many of the medicinal properties. Great way of preserving these medicines.
Today we're going to make alcohol based tincture with noni fruit, using a simple folk method. There are many ways to make herbal tinctures, we'll be focusing on one simple way…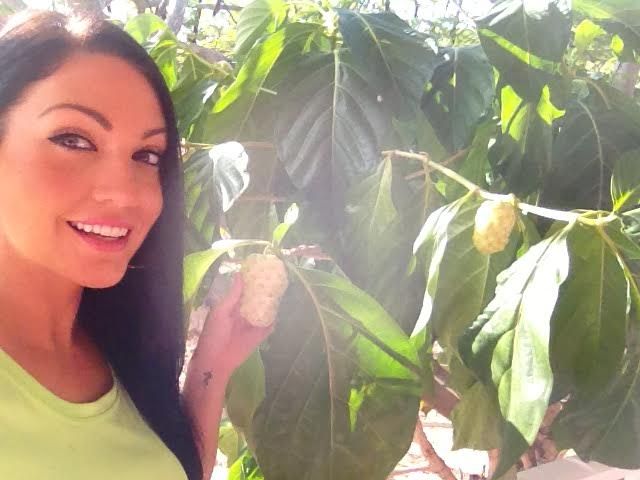 Reported healing properties of noni:
purifies the blood, relieves pain, reduces inflammation, reduces pain and swelling of arthritis, fights bacteria and disinfects, helps prevent onset of cancer and can retard tumor growth, can lower blood pressure, works against microbes, inhibits oxidation, can kill or repel parasites, promotes functions of the stomach, encourages healing of wounds by promoting cell growth and repair.
Noni starts out hard and green. As it ripens it turns white and then starts to soften…. then falls from the tree when it is fully ripe…
The smell is repulsive. It smells like vomit mixed with stinky cheese.
I first experimented with noni juice by the recommendation of the locals – placing the fruit that has fallen from the trees into a glass jar and just allowing it to ferment.
What resulted after a few weeks was a brown juice… which you are supposed to strain out of the jar. Locals mix half a glass with cranberry juice to mask the taste.
Many cultures around the world just drink it straight. However, after smelling it… I couldn't do it! So I went on to do more research on how you can consume this miracle fruit…
Other options are making a tea from the leaves or making medicinal tinctures and elixirs.
The tinctures sounded the most appealing and edible to me…. So that is what I am currently working on…
How to make a noni tincture with vodka:
This method of preparing noni as plant medicine … supposedly is not a much better tasting than the fermented liquid, but seems a little more palatable to me…
1. I cut 2 noni in half, placed them in the jar and pushed it down with a spoon
2. Then filled the jar with vodka, covered it tightly, storing it
out of direct sunlight and shaking it once every day for 4 weeks.
3. At the end of this time, you strain your mixture and label it
4. You may transfer the resulting liquid into small brown
dropper bottles for ease of use.
Dosage:
Normally, tinctures come in a small brown bottle with a dropper. For many herbs you would take a fairly large amount 2 to 3 times each day. Example: 2 to 4 FULL droppers 2 to 3 times each day. Taking a couple of drops as suggested homeopathy supposedly is not correct.
Other non-alcohol tinctures may be made with glycerin or a cider vinegar.
There are many ways to consume this and make it taste great!
Cheers To Superfoods!
If you enjoyed this post or have any experience with Noni please leave a comment below!
Resources:
From: Proceedings of the 2002 Hawai'i Noni Conference, S.C. Nelson (ed.), University of Hawaii at Manoa, College of Tropical Agriculture and Human Resources, 2003.
Comments
comments